Archive
Former Longhorn Beau Hossler building toward first TOUR win
AUSTIN, Texas – A couple years ago, Beau Hossler began a reclamation project with his new swing coach. They wanted to summon the past.
Hossler, then 25, and his California-based instructor Dana Dahlquist started with the wedges. They focused on shots of 150 yards and in. They watched hours of old video of Hossler's swing, the one that made him a Haskins Award winner at the University of Texas as the top player in college golf and the one that, at 17 years old, got him to the top of the leaderboard (alongside Tiger Woods) during the second round of the 2012 U.S. Open at Olympic Club.
"For me," said Hossler, who grew up in Mission Viejo, California, "it's going to take getting control of my golf ball again. I'm working towards it. It's consuming a lot of my time and energy."
As he spoke, he was working through a bag of balls on the range at the University of Texas Golf Club, where in many respects he enjoyed the best three years of his life. He cherished his time in Austin, so much so that he bought a house in the city and lives there for much of the season.
Now, at 28, he's watched former teammates like Scottie Scheffler win on TOUR. Scheffler is No. 1 in the world and the reigning champion of both the Masters and THE PLAYERS, but during college golf he looked up to Hossler.
"I was able to learn a lot from Beau, watching him play good," Scheffler said. "He was definitely the best player in college."
Hossler is still searching for his first PGA TOUR victory. He was in contention last year at the Valero Texas Open, which starts this week, and shot 73-66-67 the first three days to play in the last group on Sunday. But he shot 72 and tied for fourth.
The 2021-22 season saw considerable progress toward Hossler and Dahlquist's plan. The finish in Texas, along with a third-place performance at the AT&T Pebble Beach Pro-Am, propelled Hossler to his best FedExCup finish since his rookie season in 2018. He has recorded five top-25 finishes this year, with his best an 11th-place tie, again at Pebble Beach.
Hossler, however, still fights the execution of full shots of consistent quality. He has always been exquisite around the greens; he ranks 14th this season in scrambling from 20-30 yards, for example, and 11th in putting from 10 feet.
"Frankly, if my short game and putting weren't so good, I wouldn't be on the PGA TOUR," Hossler said.
As a youth, Hossler refined his game under legendary instructor Jim Flick, who died in 2012. Hossler was a first-team Rolex Junior All-America player and the No. 2-ranked junior in the Golfweek/Sagarin Junior rankings. He qualified for the 2009 U.S. Amateur at age 14; at the time he was the third-youngest participant in that championship's history, 10 days younger than the great Bobby Jones when he made his debut. Two years later, Hossler made his U.S. Open debut. Then in 2012 he became the youngest player ever to make the cut in that event.
Dahlquist said he is careful not to tamper with the foundation Flick and Hossler built. Instead, in trying to rediscover the best in the younger version of Hossler, he tries to imagine what Flick might say to Hossler now.
"How did Jim look at things?" said Dahlquist, who teaches at El Dorado Park Golf Course in Long Beach. "And how did Beau respond to those things?"
The conundrum resembled the one former Texas Longhorn Jordan Spieth faced after 2017. Spieth, who preceded Hossler at Texas by a year, had won 11 tournaments in four seasons on TOUR – then went 83 starts without winning. He snapped that streak in 2021 at the Valero Texas Open. All week long in San Antonio he talked about returning to the swing of his youth. It seemed, when he won, that he had.
Hossler tied for 69th that week, in the midst of a trying stretch. From November 2020 to April 2021, Hossler missed 10 of 13 cuts and was a combined 52 over par. He finished 10th in the Travelers Championship that June – shooting 65 in the first round and 64th in the last – and finished 148th in the FedExCup, clinging to conditional status for the following season.
But his third-place finish at Pebble Beach in February 2022 was his best on TOUR since 2018, and his fourth-place finish at TPC San Antonio all but locked up his spot in the top 125 of the FedExCup.
"You're dealing with an individual that was No. 1 in high school, junior golf and college," Dahlquist said. He could find a way back.
"I know that I have the guts and the mentality to be one of the best players in the world and to win tournaments and hopefully one day to win majors," Hossler said. He's already shown it.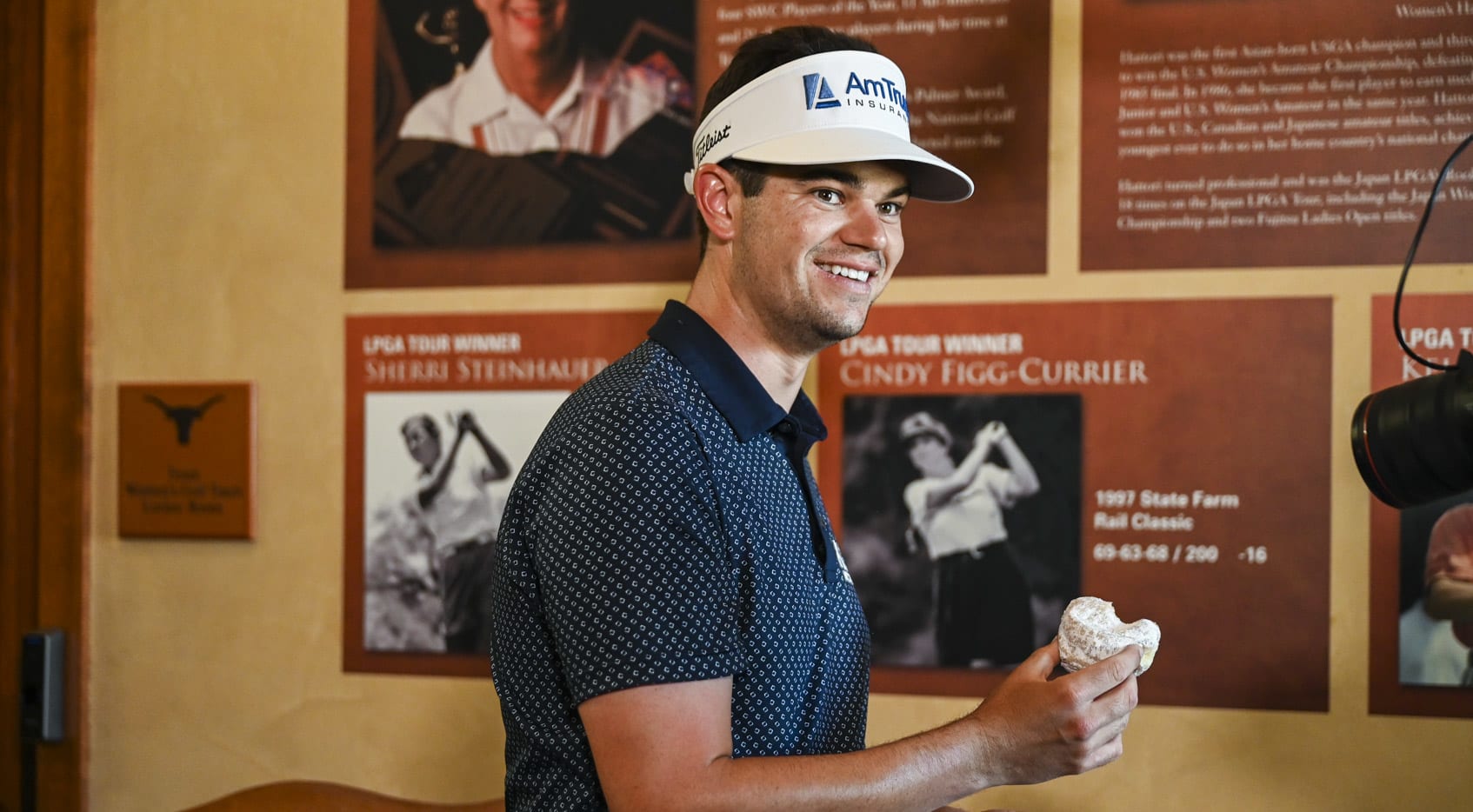 AUSTIN, TX - MARCH 25: during previews for the Valero Texas Open at the University of Texas (UT) Golf Club on March 25, 2023 in Austin, Texas. (Photo by Keyur Khamar/PGA TOUR via Getty Images)
Hossler cruised through his college career at Texas. He was the Big 12 Newcomer of the Year as a freshman and led the Longhorns with a 71.8 scoring average. He won the first time as a sophomore and never finished outside the top 20 that season. As a junior, Hossler led a powerful Texas team with a 69.7 scoring average in 37 rounds. He won four tournaments outright and tied for first in another. He was the fourth-ranked amateur in the world and a member of the winning Walker Cup team. It was, as the saying went around Austin, the Beau Show.
Hossler planned to turn professional after the NCAA Championship at Eugene Country Club. He finished fifth in stroke play, then won both of his matches in match play, which is when the trouble started.
On the 15th hole of his semifinal match against Andrew Levitt of USC, Hossler swung a 4-iron on a downhill, sidehill lie and instantly wasn't the same. He somehow managed to close out Levitt, 2 and 1, with a torn labrum, the cartilage that lines the shoulder socket. He could barely complete a swing. He was in so much pain that he putted his ball out of a bunker to avoid another full swing. He withdrew from his championship match an hour before it was scheduled to start.
His professional career had begun with calamity. Hossler required surgery and four months of rehabilitation and recovery. He lost momentum. However, Hossler gained a new appreciation for the game. He gained perspective. He valued golf more.
"Because it had never been taken away from me before," Hossler said.
"I was playing some of the best golf in my career, in my life, and basically didn't touch a club for four months and then was starting over from learning how to hit a golf ball 30 yards again."
It's been the longest road Hossler could imagine. Dahlquist said Hossler is physically and mentally prepared for his breakout moment. The iron play is better. The driver play is better. Hossler now hits a cut with longer clubs, a shape that feels more reliable to him.
"He can win tomorrow," Dahlquist said.
This week, Hossler is back at a venue he likes. He shared the 54-hole lead here last year at 10 under par. He said he felt comfortable being in contention, he liked the difficulty of the golf course and he was confident with 18 holes remaining.
Beau Hossler on what he learned from 2022 Valero Texas Open
It just didn't happen. It was J.J. Spaun who was hoisting the trophy as a first-time winner on TOUR.
Hossler hopes this year it's his turn.
"There's light at the end of the tunnel and you feel like you're moving in the right direction," Hossler said. "That's what makes coming out here really exciting, is the fact that I do know exactly what it takes for me to perform at a high level. And when I can see that kind of at the horizon, that's something that really keeps me going."